About Peekatoy™ Peekaboo Elephant Plush Toy
Our Peek-a-Boo Elephant plays peek-a-boo with your child! The soft, plushie elephant is an interactive toy that will keep your child happy and entertained. It has a play option and a sing option and will cover its eyes with its ears to surprise your child.
PEEKABOO ELEPHANT: This adorable peek-a-boo elephant is the best singing stuffed animals for babies!
Floppy the elephant will surely amaze any child from 0 to 6 years old and beyond. The perfect hide and seek toy for babies and toddlers.
SING & PLAY ALONG: The perfect interactive musical elephant for any baby. Floppy the Peek-A-Boo Animated Elephant is made from the softest of plush and is the perfect blue elephant gift idea.
She sings and plays along to "Do your ears hang low" and "peekaboo" at the press of a button.
STRESS RELIEF FOR YOUR BABY: The soft voice and soothing touch of this plushy elephant will bring hours of joy and comfort to your little boy or girl.
She dances and sings along to the best nursery rhymes and will entertain your toddler for hours.
BRING THE FRIENDS ALONG: This baby peekaboo elephant doesn't like to play alone!  The perfect gift for a kids birthday, Easter, valentines day, or baby shower.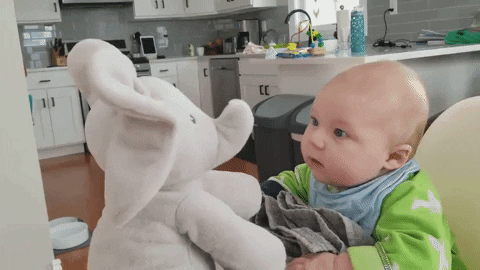 FEATURES
High-quality materials

Heart-shaped tail ending functions as remote 

Cute booties to prevent dirt and stains to the "hooves".

Soft outer fabric is soft to touch

Operates on 3AA batteries

Comes in cute and bright color variations

Majestic unicorn design