About Akiral™ Pen
Acupuncture points are seen as places where nerves, muscles, and connective tissue can be stimulated. The stimulation increases blood flow, while at the same time triggering the activity of the body's natural painkillers.
Akiral™ Pen is using electrical & laser pulses to stimulate acupuncture points without piercing the skin. A fusion of ancient medical knowledge & modern biotechnology that is effective, safe & with no side effects.
While using the Akiral™ Pen, a mild current will pass through the hand that holds the pen and our body. This current will stimulate the acupoints on our skin with impulse and deliver it directly into the body tissues and organs.
This simple at-home treatment can regulate the bioelectric field and promote cell reproduction.
Eventually, this impulse stimulation will clear all the blockage in our meridians. In addition, the electrical pulses can release endorphins and other substances to stop pain signals in the brain.
Through this treatment, you will feel your body pain, headaches, or joint pain reduced significantly, and with long term usage, they can be completely eliminated.
Benefits of Akiral™ Pen
RELIEVE PAIN- The pulsing electrical current will penetrate stiff or frozen muscles, releasing the tension and promoting proper posture and biomechanics.

RELIEVE STRESS- PulseRelief will Stimulate the production of endorphins in the body which acts as a natural pain reliever, improves your mood and increases your happiness.

INCREASE ENERGY- Increased local blood flow will naturally boost the amount of oxygen in your muscles, which in return increases your energy level.

NO SIDE EFFECTS- Akiral™ Pen has no side effects, unlike medicated painkillers and other drugs used to treat chronic pain.

PORTABLE- Easily fits in your pocket, bag or pouch. Use it while travelling, at home, or in the office to rejuvenate stiff muscles from sitting for too long.

EASY TO USE- Only needs One AA Battery to function. It has a digital display that shows the strength of the electrical pulse output (0 – weakest and 9 – strongest).

VERSATILE- Use it on virtually any area of your body. Common treatment spots include the shoulders, back, neck, knees, arms and hands.
How to Use
Node point tip – for precise treatment with higher intensity
Spherical tip – for precise treatment to quickly alleviating pain 
Scarping tip – scalp on acupressure points or channels to increase blood circulation

Dome tip – larger surface for a softer intensity. Perfect for face lifting.
Tapping tip – Tap or roll on the painful area to reach massaging effect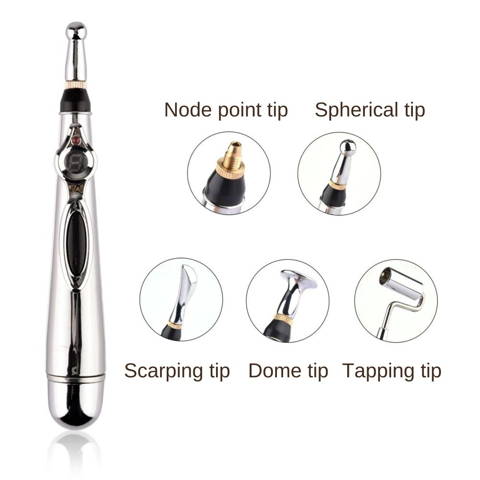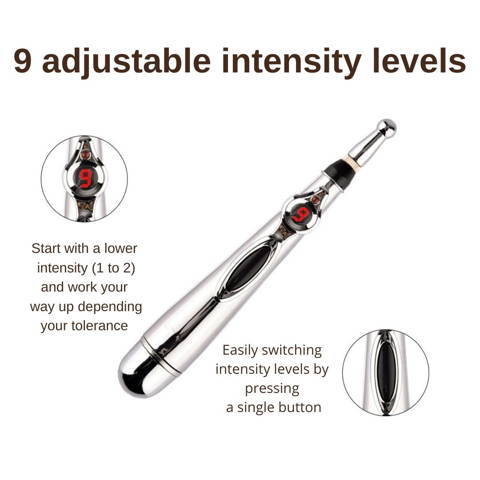 Package Includes
Akiral™ Pen

5

replaceable massage heads

Conductive gel
User manual
Acupuncture chart