ABOUT EASYPEST™ 2.0
2-IN-1 ELECTRIC SWATTER & NIGHT BUG KILLING LAMP
MOSQUITOES WORLD'S DEADLIEST ANIMAL
Each year, mosquitoes are the first killer animals in the world with 725,000 victims (source INSEE).
Get rid of disease-spreading mosquitoes without using harmful chemical fogging or repellent lotions with EASYPEST™ 2.0.
FEATURES
TARGETTED MOSQUITO TRAP: Study the habits of mosquitoes.Using frequency conversion light wave technology to imitate the wavelength that mosquitoes like, and suck them in as soon as they get closer.
Simulate the lights that mosquitoes like, attract them, and kill them instantly. 
6 uv LED lights with a wavelength of 360-400nm are built in.Attract mosquitoes to the high – pressure racquet. It's great to kill-off moths, mosquitoes, and other pests.
INSTANTLY KILLS FLIES AND MOSQUITOES: EASYPEST™ 2.0 comes with a high-voltage electric discharge that kills insects instantly with one easy swat
SAFE FOR EVERYONE: Unlike other mosquito repellent machines and coils, EASYPEST™ 2.0 doesn't release any chemical fumes or smoke to get rid of them.
This mosquito killer machine will give out a non-glare light that would be a beacon for those pesky insects and then accurately trap mosquitoes.. It is safe to be put to use in a baby as well as an adult's room.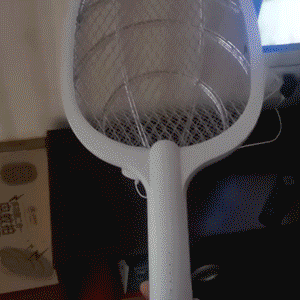 EASY TO CLEAN:  EASYPEST™ 2.0 is easy to clean after you are done using it. Due to its single-layer design, the flying insects will not be caught inside, so you won't have to do the dirty job of cleaning them off.
INNOVATIVE DESIGN: 3 layer rackets design to avoid the mosquito from escape. More than a bug zapper, it can be a mosquito killer lamp to lure the bugs themselves to come closer.
FAST CHARGING: It can be easily powered using a USB cable plugged into an adapter or power bank or laptop or any other device. It comes with an extremely powerful battery of 1200mAh. You just charge it once a month.
SAFE TOUCH: Includes 3 mesh layers. two exterior insulation layer and one interior ABS protective layer to prevent electric shock.
Product specification
Product name: 2020 latest 2-in-1 electric mosquito bat
Size: 52 cm * 22 cm
Battery capacity: 1200uAh
Grid voltage: 3000v
Power support: USB charging
Charging time: 3 hours
Wavelength: ultraviolet light 360nm-400nm
Material: aluminum, nickel and zinc iron mesh
Applicable scene: kill mosquitoes, flies, moths
Packaging includes:
Electronic mosquito swatter * 1
USB charging cable *1
Charging base *1
Note: turn on auto anti – mosquito mode.Please keep your fingers off the grid