About Feline Shield™
Tired of pets ruining your favorite new furniture?
Use our Feline Shield™ for easy and unnoticeable protection today! 
Take advantage of our 30-Day Money-Back Guarantee and try our Premium Feline Shield™ today! They come in 12×18 Inch sheets that can be cut down in size and reused all around your house!
✔️ TRAIN YOUR PET: Apply our premium protectors to the places your cat scratches the most. They will learn where they can and cannot scratch.
✔️ REDUCE STRESS: Stop stressing about constantly watching your animal, with the fear that they will ruin your new or favorite piece of furniture.
✔️ KEEP FURNITURE LONGER: Keep your furniture in perfect conditions and enjoy your favorite spot in the house for longer.
✔️ UNNOTICABLE PROTECTION: Our scratch protectors are 100% transparent so you can place them where your pets scratch the most.
✔️ EASY TO APPLY: Simply peel the sticky covering off and apply to the places your cat scratches the most. Use the included tacks for extra stability.
✔️ REUSE AROUND THE HOUSE: Once they stop using the spot simply remove the protector and reapply as needed.
✔️ APPLY ANYWHERE: Our protectors can be places on leather, fabric, polyester, or just about every material. Place them where they are needed most and remove them with ease.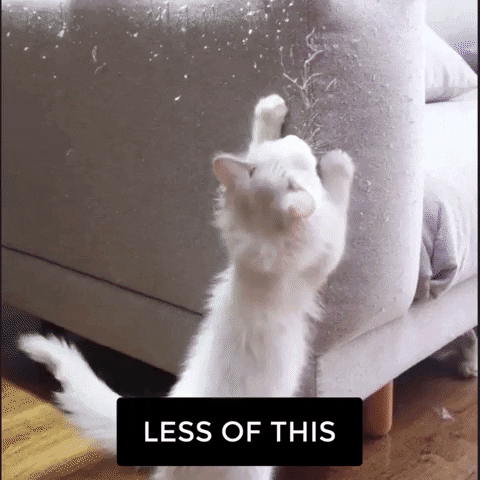 Our Guarantee
Have issues with your purchase? We got your back! Contact us about your problem so we can make it right for you so that you are 100% satisfied with your purchases be it a refund or product replacement. There is absolutely ZERO RISK buying from this official store.