About HappyBack™️ Self Massager
Imagine a silent massage gun with multi-speed functionality (3 Speeds) that can operate at up to 4,000 hits per minute (Strongest on the Market) with 65 lbs of force that lasts up to 6 hours at a time..
There is a reason thousands of athletes around the world are using the HappyBack™️ Self Massager!
Industry Leading Specifications:
3 Speeds (Up to 4,000 Strokes/Min)
Ultra-Quiet Motor Technology
1.5 lbs (.68 kg)
Up to 6 Hours of Battery Life
Extended Handle for Extra Reach
Why HappyBack™️ Self Massager?
100,000+ Happy Customers Across the World
Industry Leading Technology and Science
Trusted by Thousands of professionals all over the world
30-Day Money-Back Guarantee + 1 Year Full Warranty
3 SPEEDS | 6 HOUR BATTERY | > 50 dB SOUND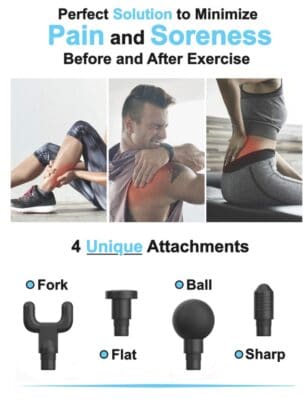 What's Included?
1 x HappyBack™️ Self Massager
1 x 24v Lithium-ion battery
1 x Charger
1 x User Manual
1 x Premium Full Carrying Case