About Knotty Massage™
Looking for a solution to reach those terrible knots in weird areas? Our Knotty Massage™ vibrating massage ball is a lightweight and portable solution that provides effective muscle recovery. Keeping your blood flowing after a workout is vital with focused vibration to stimulate the body's trigger points., relieve all tension today with our Knotty Massage!
Features & Benefits of Knotty Massage™
✔️ MASSAGE YOUR UNREACHABLE MUSCLES: We all know how limited the traditional foam roller can be in reaching the hard to reach small muscles. With our vibrating massage ball, you will be able to get those unreachable knots once and for all!
✔️ 4 VIBRATING MODES: Enhance your pre-workout and recovery system with low, medium, high, and extra-high vibrating modes of your choice. Ideal for warming up, circulation improvement, and recovery of sore and tight muscles.
✔️ #1 TARGETED MUSCLE AND FOOT MASSAGER: When compared to foam rollers, the vibrating massage ball goes deeper and is more flexible. It could work in a circular motion, side to side, and up and down, giving more pressure on specific areas for a targeted massage, while foam rollers disperse pressure broadly and more evenly. ٭Press & hold the power button to turn off vibration.
✔️ PAIN RELIEF AND RAPID RECOVERY: Helps release sore and tight muscle knots. Perfect fascia massager for myofascial release, trigger point therapy, and deep tissue massage throughout the body. One of the most valuable myofascial release tools for reducing pain, prevent injuries, increasing mobility.
✔️ PORTABLE AND RECHARGEABLE: Knotty Massager is lightweight, compact, and can be taken along with you for an on the go workout easily. With a quick easy charge, you can now have your comfortable massage wherever you are.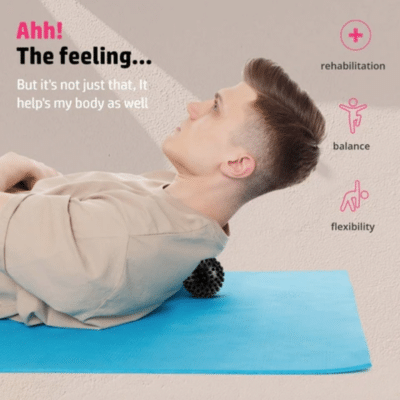 Our Guarantee
Have issues with your purchase? We got your back! Contact us about your problem so we can make it right for you so that you are 100% satisfied with your purchases be it a refund or product replacement.  There is absolutely ZERO RISK buying from this official store.