About LilyPillow™
Say Goodbye to Lower Back Pains
Lower back pain can be a serious problem. It is normally cause by poor posture, overweight, strains, disc injury, pregnancy, arthritis and aging. 
Lower back pain can be made worse with poor sleeping conditions. LilyPillow™ is the world's first buckwheat lumbar support sleep pillow to treat lower back pain.
Don't let lower back pain keep you from living your best life! 
How Does LilyPillow™ Work?
Feel the Difference After 7 Nights – LilyPillow™ is simple to use. There are no strenuous exercises involved. Just position your lower back on LilyPillow™'s buckwheat core while you sleep and let LilyPillow do the job.
On average, LilyPillow™ users start feeling a firmer back after a week with at least 1-2 hours usage per night.
Progressive Pain Relief – It takes some time for your body to adjust to the LilyPillow™. LilyPillow's buckwheat core will start to conform and mold to the contours of your lower back providing a firm upward lift. 
This helps to restore your spine neutral position and release the tension in your back.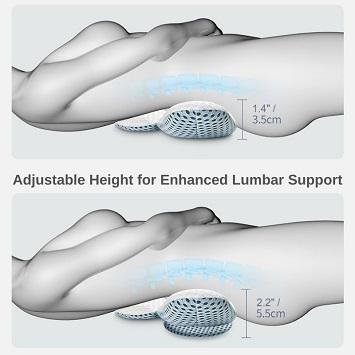 Perfect Physical Therapy Solution – LilyPillow™ is suitable for those who have trouble stretching the lower back. LilyPillow™ comes in 2 adjustable heights – moderate and advanced.
For those required a deeper stretch, you can attached the height disk.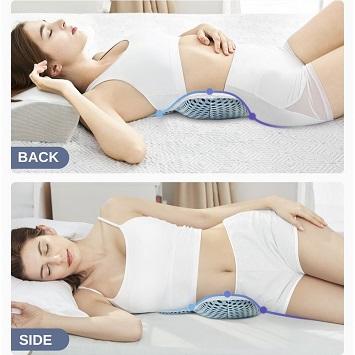 Suitable for Both Back & Side Sleepers – Regardless if you are a back or side sleeper, LilyPillow™ cushioned peripheral supports helps to hold and maintain your body to the firm central core.
This ensures that your neutral position is maintained regardless of your sleeping position.
WE ONLY USE PREMIUM MATERIAL
Buckwheat Hulls
Our signature buckwheat hulls central core delivers remarkable back support, enhanced airflow and lasting durability.
High Density Cotton
Comfortable pearl cotton offering extra support while still maintaining the shape of the pillow.
Breathable Mesh Linen
Breathable and hypoallergenic, this luxurious open mesh provides just the right bounce while keeping you cool all night.
DIMENSION
CM: 54 x 34 x 6.5 
Inch: 21.5 x 13.5 x 2.5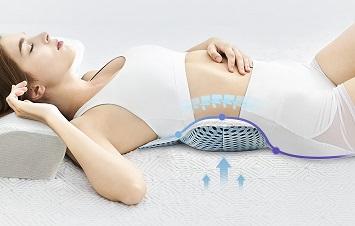 Common LilyPillow™ Questions
Q: Who can use LilyPillow™?
A: New and expectant mother, the elderly, men & women with lower back problems such as strains and disc injuries. 
Q: How to use LilyPillow™
A: LilyPillow is best suited for sleeping or lying down on a bed or recliner. Just ensure that your lower back / aching area is rested against the center core of the LilyPillow. 
Q: When would I start feeling the results with LilyPillow™?
A: We recommend to rest on LilyPillow™ for at least 1-2 hours for 7 straight nights to start feeling the results. If your sleeping habits permit, you can also sleep throughout the night with LilyPillow.
Q: I have a firm /soft mattress, how does LilyPillow™ help?
A: Firm mattresses may be too hard and unable to conform to the arch of your lower back. Soft mattresses tend to sink in as a whole without providing much support. LilyPillow™ helps to provide a firm yet moldable support just for your lower back.
Q: How does sleeping on LilyPillow™ feels like?
A: LilyPillow™ is towards the firm side. Thus your body might need some time to adjust to it.
Q: I have a memory foam lumbar support pillow, why do I still need LilyPillow™?
A: You can use LilyPillow™ together with your memory foam pillow as part of your lower back treatment. LilyPillow tends to be on the firmer side and will provide a deeper stretch as compare to the memory foam pillow.
Q: Can I use LilyPillow™ in a seated position?
A: Yes. You would need to adjust accordingly. But is best suited when laying down.
Q: Are there any specific care instructions for LilyPillow™?
A: Do not wash LilyPillow™ as it may damage the buckwheat hulls. You can use LilyPillow™ with a normal pillow case or just clean it with light spraying of baking soda solution.