ABOUT PAW HUGGIES ADVENTURE POUCH®
No dog deserves to be limited by age or mobility
Who can use our reversible carrier?
Elderly or mature dogs with joint pains and aches.
Injured or immobile dogs that might find difficulty in movement
Dogs that are prone to burning their feet due to hot or summery locations.
Dogs that suffer from acute separation anxiety.
Puppies that just want to tag along!

BENEFITS
Thanks to the thick bottom rest pad, your dog can sit comfy as he rides "piggyback", while the Foam-Tek slotted shoulder straps keep you cool.
Two side strap pockets allow you to store puppy related goods in confidence. Side straps slide with ease to allow alterations of sizing. A heavy-duty cross body strap will minimise all jerking and erratic movement to keep your precious cargo cozy.
This innovative design allows him to sit snug on your back with his head out for uninhibited visibility and engagement. Paw Huggies Adventure Pouch® features ventilated sides for the full al-fresco effect, easy-pull zippers, adjustable side pockets for all your essentials, and a collar hookup D-ring for added safety
SIZE GUIDE
Small: 30x34x16 cm – 1 to 9lbs
Large: 36x45x21 cm – 10 to 25lbs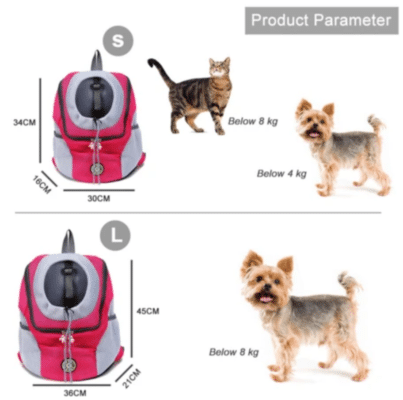 OUR GUARANTEE
Have issues with your purchase? We got your back! Contact us about your problem so we can make it right for you so that you are 100% satisfied with your purchases be it a refund or product replacement.  There is absolutely ZERO RISK buying from this official store.