About SoulTouch™ Scalp Massager
There are so many benefits to using a SoulTouch™ Scalp Massager:

RELIEVE STRESS: Massage can increase blood flow in areas that might be ischemic (lacking blood flow) and therefore help relieve pain. Massage decreases pain from Trigger Points. Trigger Points are areas of hyper-irritable tissue that are very tender and also can refer pain to other areas of the body.

PROMOTE HAIR GROWTH & THICKNESS: Daily scalp massages are one of the main ways you can be able to thicken your hair and lower your hairline. They are absolutely essential if you're serious about getting back your healthy hair.

WATERPROOF: it is IPX7 waterproof, so you can implement it into your wash day routine, use it with shampoo, conditioner or any hair product!

#1 Most Recommended Brush by Dermatologists and Physiotherapists!

 
You can't put a price on a healthy scalp. Our scalp massaging brush has been shown to improve your hair growth and thickness, and as an added bonus, it feels really, really great – Isn't that what self-care is all about?
Why Do I Need This?
Your scalp is full of nerves close to the surface of the skin. Massaging the scalp relaxes the nervous system by stimulating these nerve endings – and a light touch is sufficient.  In the long term, a scalp massage not only feels good but also comes with many benefits.
With 10 minutes a day, you can relieve the stress of the whole day and relax, while on the long-term you will grow healthier, thicker hair.
Promote Hair Growth & Thickness
As a hair loss sufferer, the growth of new hair may be your biggest concern. You'll be happy to know, then, that regular scalp massage can have a beneficial effect on your hair growth efforts.
It stimulate blood circulation of the scalp which increase hair thickness by stretching the living hair follicle cells and stimulating them to produce thicker, individual hairs.
Perfect for All Hair Types
A common misconception about hair type 4 is that it doesn't grow long. 
This isn't true, the only difference is the fact that it requires much more care to avoid breakage.
Use Soultouch scalp massaging shampoo brush instead of your fingers, it's a lot quicker and a lot more thorough, and the best part, it releases the tension that we all tend to hold up top, this in turn can help reduce tension caused by stress and help end headaches.
A Natural Remedy for Migraines & Headaches
If you're hoping to alleviate pesky tension headache or migraine, massage is a great choice. Research shows that scalp massage can help reduce the frequency of chronic massages, as well as other benefits like mood boosts (through increases in serotonin, the "happy hormone.").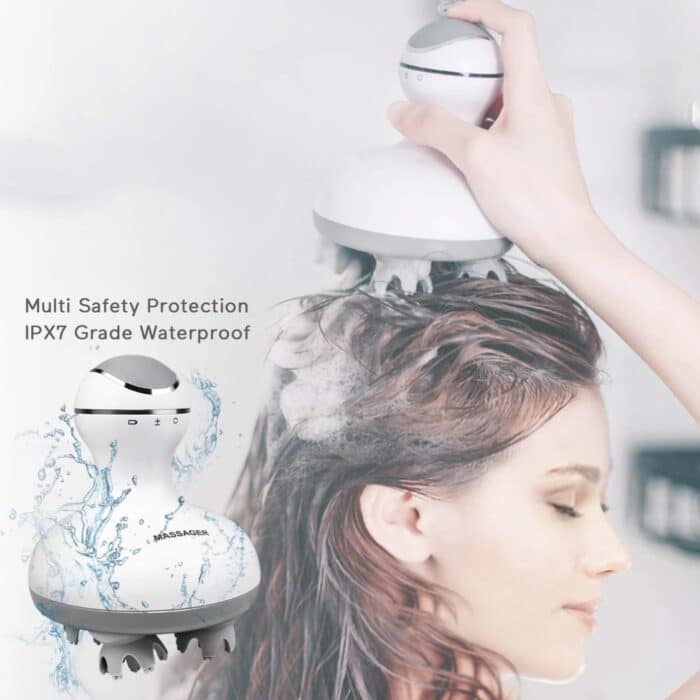 Specifications
Size: 140*120*150mm
Weight with Box: 600g
Power mode: USB charging type
Power: 5W
Application: Head, Shoulders, Arm, Waist, Leg, foot
Color: White
Material: ABS+Silicone
Massage Head: 4 separate heads
Working time: 10 minutes (intelligent timing design)