About The Swift Mop™
The Swift Mop™ is the world's most convenient and efficient mop. It allows you to clean any type of floor or wall without having to touch the mop head and cuts your cleaning time and effort in half.
Say bye to your traditional mops – Swift Mop™ is designed to make mopping easy and convenient for you!
Stress-free yet effective cleaning hacks don't have to cost you a fortune, get our Self-Cleaning Mop today to free your hands and enjoy easy and enjoyable cleaning experience!

*Package comes with 1x Swift Mop™, 1x Wringer and 4x Micro-Fiber Pads
How Does The Swift Mop™ Work?
Swift Mop™ is most ideally used for floor cleanings, such as hardwood, laminate, marble or tile floors.
Unlike traditional mops, that pick up dirty residuals with which you end up using to clean, our evolutionary ALL IN ONE self-cleaning system washes and dries your mop so you get a clean mop each use without having to wet your hands with dirty mop/water.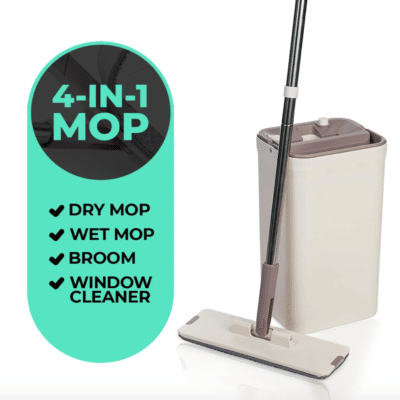 This quick and easy self-cleaning system allows you to wash, rinse and dry your mop all at the SAME TIME! No more hand washing the mops, no more bending over, no more trips back and forth. Take this portable bucket with you to Clean EVERYTHING and ALL AT ONCE!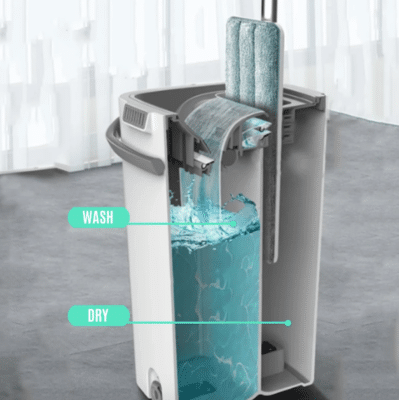 Simply insert the flat mop vertically up and down to the cleaning side of the bucket to scrape off the dirt and repeat the same motion on the drying side to achieve the desired dampness for wet mopping.
Gently remove the mop from the drying side and you are it is ready to be used! The attached lid does all the hands-free cleaning for you while preventing splashes.
Our minimalist design makes storage and transport easy. It also features a bucket handle and two drain plugs for hassle-free drainage.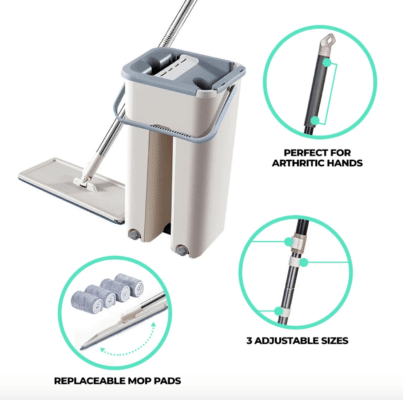 The ULTRA-FINE microfiber cleaning pad picks up dirt, dust, fur, hair, and stains like a MAGNET! 
These cleaning pads are washable, reusable, durable and more eco-friendly than regular disposable pads!
The package comes with 2 microfiber cleaning pads. Additional cleaning pads can be purchased in our store separately.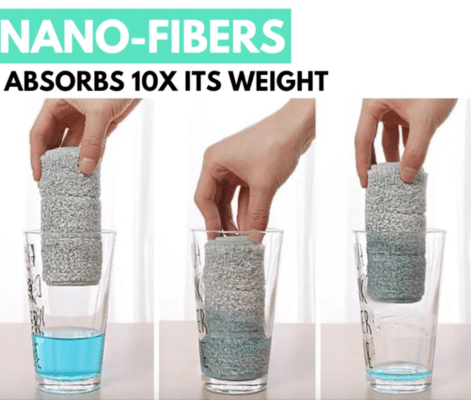 The slim yet flexible 360° SWIVEL HEAD design allows you to lay the mop flat so you can effectively clean corners, under furniture and other HARD TO REACH areas.
The lightweight pole is made of stainless steel which allows you to clean effortlessly without tiring you out.
The Swift Mop™ is EASY to install, LIGHT to carry, and EXTREMELY EFFECTIVE for floor care – the perfect ALL IN ONE self-cleaning mop you will need in your household!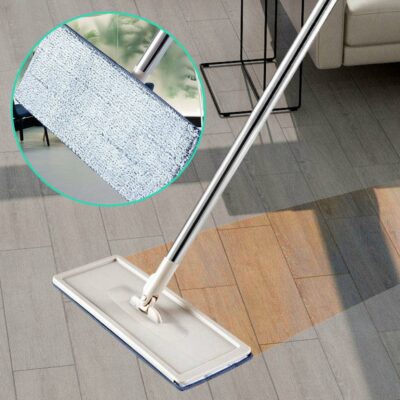 OUR GUARANTEE
Have issues with your purchase? We got your back! Contact us about your problem so we can make it right for you so that you are 100% satisfied with your purchases be it a refund or product replacement.  There is absolutely ZERO RISK buying from this official store.