About UltraHeat Unisex Heated Vest
BEAT THIS WINTER WITH ULTRAHEAT SMART VEST
Size Tip: Fits true to size, pick your usual size.
Whether You're a biker, cyclist, outdoor enthusiast or just get cold during cold winter days in your office – You'll love this upgraded 4 area heated vest
The UltraHeat makes it easy to stay warm during even the coldest winter days.
And most important there is no extra bulk and weight that you get from a traditional winter jacket. It's perfect to wear while being active.
NEVER BE COLD AGAIN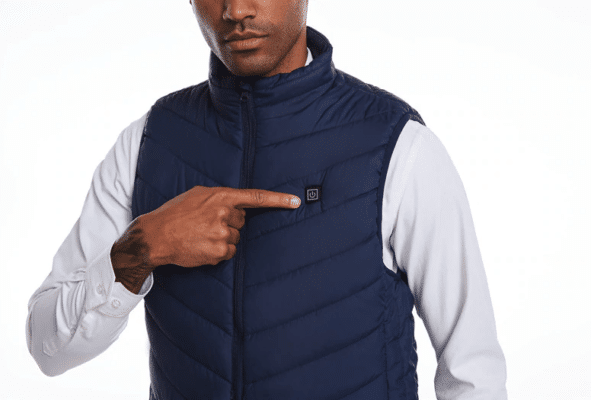 The UltraHeat utilises infrared technology and japan carbon fibre wires to warm your whole body up in seconds! Insulated with high-quality down cotton and with heating elements intelligently spread throughout the collar and back, you'll feel warm & cosy no matter how cold it is.
INSTANT, LONG-LASTING, ADJUSTABLE WARMTH
Thanks to upgraded technology it heats up in just in few seconds and you can enjoy it up to 12 hours on a single charge. The 3 different heating options allow you to adjust your warmth to meet any conditions you're faced with. You can easily change between settings with the press of a button.
ULTRA-LIGHTWEIGHT DESIGN
Built with high-quality down cotton and a polyester shell so you can enjoy FULL insulation without the extra weight and bulk that you get from a traditional jacket. The vest is even lightweight enough to wear under a jacket for those extremely cold days!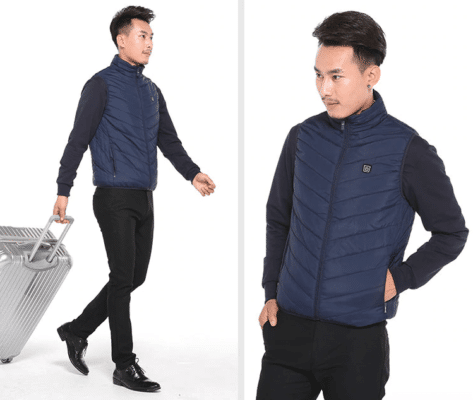 PERFECT FOR ALL OCCASIONS
You can wear this vest while skiing, ice fishing, motorbike riding, cycling, hiking or with any other outdoor activity, but you can also wear it in your everyday life. It's made to keep you warm, but it also looks modern and doesn't give off the impression that there's a battery in it.
EASY CARE
The interior of the vest is made of carbon fibre, unlike metals, which are electrically conductive and you don't have to worry about washing it. It is 100% machine washable.
SPECIFICATIONS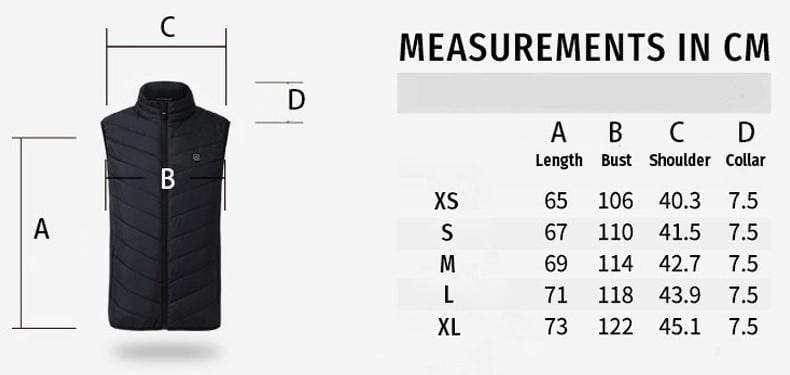 Material: 100% Polyester

Fit: True to size

Waterproof rating (IP): 3

Gender: Unisex

Heating zones: back, neck, waist, both sides of the abdomen

Power Supply: Universal USB 5V/2A Powerbank (Not Included)

Weight: About 1.35kg